The New Mexico Technology Council partners with a variety of organizations to develop the New Mexico technology workforce, including the New Mexico Councils of Government and national organizations such as Opportunity@Work that sponsors initiatives such as TechHire.
In order to start any workforce development programs, we begin by conducting research using Talent Neuron. We generated some reports regarding employment requiring junior level (less than two years) experience. Download the free reports here:
For New Mexico employers such as the national labs, research,  military, and advanced science etc., the employees sought are those who must have security clearance. For some background information about clearances in general, have a look at the Security Clearances FAQ from the United States State Department, which you can read about eligibility, process, levels of clearance, and what is involved in vetting, etc.
If you seek additional research about employment opportunities and employers in New Mexico, whether city, pueblo, county, or state, contact us with your requests.
---
New Mexico Technology Council Workforce Development Partners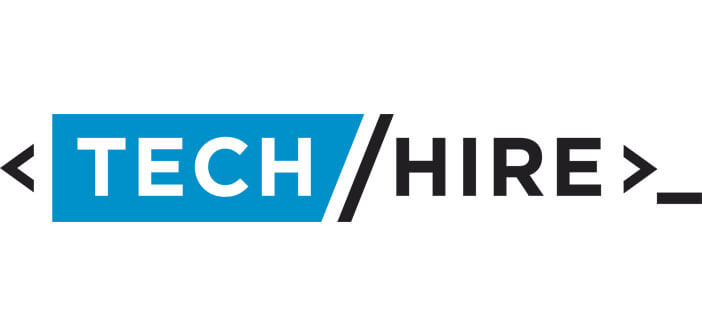 From their website: TechHire is a national network of communities working to create pathways for overlooked and underrepresented Americans to gain skills and access to open technical jobs across the country. TechHire was launched in 21 communities by President Barack Obama at the 2015 National League of Cities conference – and has been gaining momentum ever since. When TechHire formally transitioned from the Obama White House to Opportunity@Work in December 2016, the network had expanded to 72 communities, states and rural regions across America.
Customized training programs that align with employer needs
Paid training for eligible participants
Paid Registered Apprenticeships through CNM
Funding for up to six months of on-the-job training
Paid training for current employees
Graduates will receive industry-recognized credentials
Full range of IT job seeker skill set assessments with instant test results
Increased opportunities for employers to hire high-quality, diverse, entry-level talent
If these incentives are valuable to you, have a look at New Mexico's Mid Region Council of Government's website – TechHire (full link). There is an online and very short application to participate as an Education Provider, Training Provider, and Employer Partners here.
From their website: The New Mexico Department of Workforce Solutions (NMDWS), whose mission is to Educate, Empower, Employ, is committed to being a leader in and a facilitator of a competitive workforce for the benefit of all New Mexico. The department's goals are: to be a business-driven department, understanding the needs of employers with a focus on the employability of all New Mexicans; to be an integral part of all economic development and education initiatives; to be efficient and responsive to the diverse needs of New Mexico's employers and workforce; and to be a "gateway" to employment.
Deep Dive Coding Bootcamps are a part of CNM Ingenuity, a nonprofit that helps Central New Mexico Community College pursue cooperative ventures in technology and entrepreneurship.
From their website: "We offer a variety of modern web programming and software development bootcamps. You'll learn the fundamentals of modern web development and learn to code and build sites and apps so you can get a great job or build those apps you've been thinking about. Each bootcamp teaches different skills, but they're all focused on teaching you in-demand skills when it comes to web and software development. We'll help you prepare for a job as a developer and work with our extensive network in Albuquerque or wherever you may want to launch your coding career." 
From the website: "Girl Develop It is a nonprofit organization that provides affordable programs for adult women interested in learning web and software development in a judgment-free environment."
"Our vision is to create a network of empowered women who feel confident in their abilities to code and build beautiful web and mobile applications. By teaching women around the world from diverse backgrounds to learn software development, we can help women improve their careers and confidence in their everyday lives."
From their website: "We are promoting Tech education, training under-represented community members, and supporting Tech enterprise and workforce development. We are also stewarding TechHire Santa Fe and Northern New Mexico!"